At the laying of the Foundation Stone , little 9 year old Elsie Willmington presented a handsome silver trowel to Miss Hartley, with a few appropriate words, as a memento of the occasion; and with it a decorated scroll executed by Mr Mansfield-Haysom (Chard) and containing the names of the Working Committee, whose present it was.
In return Elsie was presented with a 1910 (the year of her birth) gold sovereign coin on a gold chain.   This gold sovereign necklace is now in the capable hands of her daughter, Avril, who kindly let us take a photograph of it. It is still in its original box and Avril still has the pleasure of wearing it.     Elsie lived a long life having died in 1993.
(abbreviated extract from the Chard & Ilminster News – July 1939)
The Rev P D Preston officiated at his first wedding in St Michael's Church on Saturday, when the marriage of Elsie May Willmington, eldest daughter of Mr and Mrs F Willmington of Court Farm, Chaffcombe and Mr Herbert William Norton Harris, elder son of Mr and Mrs H J Harris on Bingham Lodge, Stud, Chaffcombe.
Given away by her brother Mr T Willmington, the bride wore . . . .
There were two bridesmaids, the Misses Muriel and Olive Willmington, sisters of the bride.
Mr Jack Richards, friend of the bride and bridegroom was best man.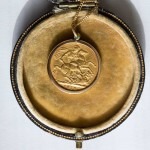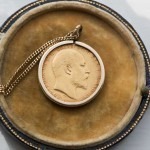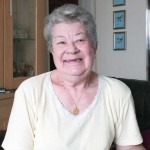 Avril Harris (Elsie's daughter) wearing the sovereign