Somerset Film at The Engine Room | March
New events, courses, screenings and more!
Somerset Film at The Engine Room's new Brochure is out now! it's jammed packed with new creative courses for all ages, film screenings and events.

You can now view our brochure online

Let us know if you would like a printed copy!
Email: info@somersetfilm.com or call: 01278 433187 and we will post one out to you.
Upcoming Courses and events
Lens Captains – Filmmaking Club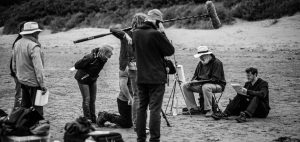 Our after-school filmmaking club for young people aged 10 – 14 years to discover more about filmmaking. Each week we'll have fun making and watching film! No previous experience required, just a sense of adventure and imagination. Cost: £30 for six sessions. Read more or book your place here.
18th and 25th April + 2nd, 9th, 16th and 23rd May | 5.30pm – 6.30pm | The Engine Room, Bridgwater
Animation with Storyfest
For ages 7 – 12 years. Work with an Animator and Storyteller to bring your ideas to life using the magic of stop frame animation and your imagination. Create your own characters, sets and stories and produce you very own animated film.

Animator Angela Frankham and storyteller Michael Loader will lead this workshop in a new collaboration between Somerset Film, Somerset Storyfest and Bridgwater Arts Centre. Read more or book your place here.

See www.somersetstoryfest.co.uk for full festival details

Monday 10th April | 10am to midday or 1pm to 3pm | £5 per child | The Engine Room, Bridgwater
Advice Session | Raising A Profile
One-hour one to one sessions with Patricia Marks, trustee of Somerset Film and MD of Somerset Business Agency (SBA). Patricia comes from a background in manufacturing, as well as marketing and people development. She started SBA in order to be able to provide individuals with a high quality service that allows them to explore career paths and business opportunities that help them take the next steps. If you are thinking about becoming a freelancer and developing a profile as a small business or if you have been in business a while and need to look for new markets Patricia can guide you.
Once you have registered to attend this session, we will be in touch to arrange a time-slot for you. Register here.
Thursday 30th March 2017 | Time: 10:00am – 1:00pm | FREE | The Engine Room, Bridgwater
Analogue 16mm Filmmaking and Sound
…with filmmaker Tim Richmond and Sound Artist Stephen Kidd.
There is a particular quality that analogue film delivers, a rounded tonal, lightly grained quality that reveals a sense of depth. This four day workshop will look at the technical aspects of shooting on film, including lens choice, film stock choices, lighting, the camera itself and the capturing of sound. Read more or book your place here.
10th – 12th May 2017 plus one extra day TBC | 10am – 4pm | Course Fees: £400 Please note: 12th May will be on location. Details to be confirmed.
Ignite Somerset
Belonging | An Exhibition of Digital Artworks
An exhibition of innovative digital art works responding to the theme of Belonging. The theme has been left open to interpretation and could explore the notion of being accepted/included in a social, political or cultural group, individual happiness and well-being or a connection to the land and to nature. Join us as artists once again transform the Engine Room studios.

Open 10am – 4pm Monday – Saturday 27 March – 8 April
Free Entry | Booking is not required.
Creative Network
Our popular monthly event provides an opportunity for artists to get together to talk about their work, share inspiration and get collaborative.
Wednesday 29th March | 5pm – 7pm | The Engine Room
Other opportunities
Got a creative idea? Could you make it into a film?
Calling the Shots are looking for young people with brilliant ideas to produce a series of short films for Arts Council England and for potential inclusion in Random Acts, the arts series broadcast on Channel 4. The closing date for this round of applications is at 12pm midday on March 20th 2017 ,but you can submit at any time from now.Find out more about this project and how you can get involved now and in the future here!
Dance Project Filmmaker Required
Ruth Bell is looking for a filmmaker to be involved with creating a new dance project, based on location in North Devon.
She is looking for a filmmaker who wants to gain experience in working with dance for camera. The project is a joint collaboration with a sound artist and Ruth, choreographer. They are looking for a creative individual who would like to be involved with artistic and technical input.
It is a great opportunity for an emerging filmmaker, or someone who wants to experience working with site specific dance.
If you are interested in this opportunity please contact Ruth Bell on ruth.danceartist@gmail.com for more details.
Please note that this is work is not being carried out through Somerset Film and Video ltd – see below for submissions and limitations.
Hair and Makeup artists and Sound Recordist Required
CHRISTMAS NUMBER ONE is the story of Cristelle, a highly-strung pop star who is sent to stay with her parents in Somerset after throwing an epic tantrum on a video shoot. There, she discovers that she has been fired from her band, and plots revenge. Cristelle recruits some musicians from a local open mic night and together they must fight to beat her old band to the Christmas number-one spot.
Christmas Number One uses the fun and humour of the classic movie musical to explore modern life in the West Country. Traditionally, the musical genre is seen as somewhat idyllic and conservative, but our film does not wallow in nostalgia: it takes the rhythms and textures of the Mendip Hills – the people, the pubs, the villages and farms – and weaves them together into original, catchy song-and-dance numbers which offer a glimpse into the social and psychological state of England today.
Succulent Films are looking for some talented people to join our cast and crew on a short proof-of-concept film. We are looking primarily for hair and makeup artists and a sound recordist.
The shoot is the weekend of Saturday 25th and Sunday 26th March. Note: extras may not be required for the whole of the two days.
Please get in touch with the Production team and send emails to both Camilla on camstop@hotmail.com and David on nanahcubad@hotmail.com
This update was provided by:
Somerset Film & Video Ltd
The Engine Room, 52 High Street, Bridgwater TA6 3BL
Tel: 01278 433187 Fax: 01278 433182 Email: info@somersetfilm.com
Submissions and Limitations
Somerset Film & Video Ltd disseminates this information in good faith but can take no responsibility or liability for any events resulting from factual or typographical errors herein or for any collaborations or engagements entered into as a result of responding to 'Opportunities to collaborate / calls for crew'.
©2017 Somerset Film | The Engine Room | 52 High Street | Bridgwater | Somerset TA6 3BL