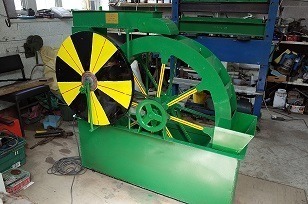 A replica of Chaffcombe's waterwheel can be seen running at St Michael's & All Angels Church, Chaffcombe during our Flower Festival to be held on May 23rd, 24th and 25th May.   The actual Chaffcombe Waterwheel will be running during the afternoon of the 25th May from 2.00 p.m.
There are various events being arranged for the weekend being held in the Village Hall but you must come to see our Flower Festival at the Church which is always a delight.
On the Monday afternoon, there will also be a Table Top Sale and if you would like to participate in this the cost of a table will be £5.   Please telephone or email Mary on 01460 64592 or  mary@chaff.fsnet.co.uk  to book a table.
The proceeds of the whole weekend will be split equally between the Church and the Village Hall Alterations Fund.